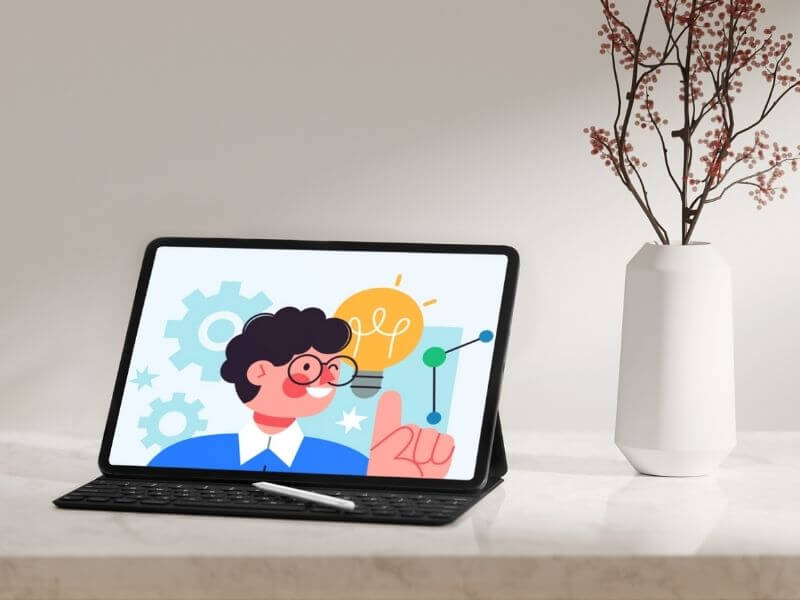 Even in 2022, managing various channels, scheduling posts, and keeping up with a strategy may be challenging even for experienced social media managers. That's why in this blog, we've gathered a list that includes the best social media tools (in no specific order) and some tips that will help you establish an effective social media presence for your business. Shall we start?
Here You'll Find:
---
To Build a Social Media Presence, You Need the Right Tools
Nowadays, it seems like there's an app or a website for everything, from food deliveries and dating to banking or lead generation. We order, chat, research, read, and meet people online. 
Some studies suggest that we can spend a third of our lives online. We spend at least 147 minutes a day on social media. That's almost three hours of scrolling, liking, commenting, and digesting content. In these few hours, your potential client can be on Instagram, LinkedIn, Facebook, Twitter, or other social media sites, and they must see your company's name pop up from time to time.
This is why being present in the digital world is vital, as it ensures that your customers know your name and what you do. Plus, it may grant you the benefit of trust over your competitors. However, you can't go to war if you're not prepared. So, for this particular situation, your ally to succeed will be to equip yourself with the best social media tools.
Ready to discover our favorites?
---
1. Hootsuite
An all-in-one social media management system that can keep track of all the activity around any channels that you use. Its functions include curating content, managing and tracking posts, analyzing data, and keeping track of social conversations in your niche, therefore allowing you to respond instantly. 
In Hootsuite, you can view analytics on your latest posts, comments, and feedback. Plus, you can watch streams from multiple networks, schedule posts in advance, and monitor hashtags. It supports integrations with major social media platforms like Twitter, Facebook, Instagram, LinkedIn, Pinterest, and Youtube.
Don't miss out: YouTube Shorts vs. Tik Tok vs. Reels: Which Is best?
---
2. Unsplash
A great and free social media tool for marketers is Unsplash; dedicated to sharing stock photography that you can use for your social media efforts. Almost 300,000 photographers contribute to this resource and generate over 16 billion photo impressions per month. Unsplash is easily integrated with other tools (Figma, for instance), and it works great for Instagram.
---
3. BuzzSumo
BuzzSumo is a social media research tool that helps you form your content strategies for various media channels. To be more specific, it can find the content that is performing the best on any topic or keyword, and you can also track the high-ranking content of your competitors. It also offers audience segmentation, impact scoring, and influencer tracking services.
---
4. Unfold
A social media tool that is "a toolkit for storytellers". In other words, Unfold is an online app that allows you to create beautiful Instagram content with hundreds of templates, filters, and effects. The app's design is very responsive and allows you to create visuals for Instagram stories in just a few minutes. This app can be a fun place to experiment with collages or new types of content.

Although almost every tool (including Unfold) offers analytics, we suggest you check it everywhere and see if your data is the same. If there's something that doesn't match, it needs to be checked.

You might like: How to Advertise on Instagram
---
5. Sprout Social

An all-in-one social media management platform that offers customer engagement, publishing and scheduling, analytics, and social listening services.

Although it's suitable for all business sizes, the absence of a free version implies that it's more oriented toward bigger organizations. Nonetheless, it stands out from the crowd: It collects all your social messages, tasks, and feeds in one place yet allows you to monitor them separately as well.
---
6. Unum

Unum is a brand design platform that offers tools for design, publishing, and analytics all synced in one cloud. Also, is considered the perfect tool to create a full-circle Instagram feed view. You can schedule your posts, control your workflows, and use app insights to manage all of that better. Also, it isn't just for your Instagram but for other social media profiles as well, allowing you to coordinate your efforts and see what's working and what isn't. 
Keep in mind the Top 12 Social Media Strategies to Drive this 2022
---
7. Tweet Binder
If you want to establish your social media brand presence on Twitter, Tweet Binder is a tool for that. It's a hashtag tracker tool that analyzes your tweets and creates reports in any date range.

You can see specific tweets or conversations and load data on audience engagement, which is perfect for managing your campaign hashtag performance. It's beneficial for small businesses and has a wide range of pricing options.
---
8. Sendible

When thinking of social media tools, Sendible is the right for you! It's a scalable social media platform that manages multiple profiles in one location. During the 14-day free trial period, you can experience a great variety of tool integrations (WordPress, RSS Feed Importer, Canva, etc.) and a big range of classic functions.

In Sendible, you can customize, schedule, and publish posts directly, collaborate on various content calendars, and monitor the development of your brand. It is excellent for corporate marketing teams and digital agencies.
---
9. Google Trends

Another treasure in the social media tools catalog is Google Trends! It's a free, online tool that can help track your goals, traffic, and other social media activity. Due to its accessibility and simple interface, it is great for small businesses or beginners. You can pair it with Google Analytics or any other social media tool.
---
10. SCIENCE Digital
Finally,  SCIENCE Digital, is a data solution that enables advertising and multichannel programs to deliver better personalization and targeting across all channels social media being one of them. You can carry out special campaigns with an audience that was carefully selected for your brand, generate ads, and unify the efforts throughout all your social media.
---
Extra: Placeit
Of course! It couldn't be off the list! The truth is that Placeit is a fantastic tool, whether for beginners and advanced social media owners or even for those who don't have any skill in design but want to present a professional and gorgeous result. With Placeit, you can find thousands of ready-to-use templates without hiring a professional designer but with the same quality and within minutes. Give it a try today!
Learn How to Make Social Media Images with Placeit
---
6 Expert Tips for Social Media Marketing
No matter what social media tools you use or what strategy you choose, there are some steps you can take to ensure your efforts go smoothly. Here are six tips to enhance your social media marketing in 2022:
1. Start with a plan
Social media is not that hard to navigate; however, don't forget that every effective business strategy starts with a good plan. Even if some of the tools you use are free, your time and effort are not, and it would be a shame to waste it on something unproductive.
---
2. Get to know your audience
An experienced social media manager may have a gut feeling about a new audience about what will work and what won't. However, it would be unreasonable to leave it for luck. Don't make presumptions about your followers and what they are doing online. Learn your audience, research, ask questions, and create polls to find out all of the details.
---
3. Be consistent
When you publish content continuously, there's a higher probability that your posts will be seen it's just as simple as that. To see visible results, it's common to post a couple times a week, but consistency is what really matters. If in one week you post five times and then have no posts for the rest of the month, all your efforts will be in vain. 
---
4. Experiment with the formats
Who said you can only post long-form articles or short tweets? There's a whole variety of formats that can be used to drive higher audience engagement. For instance, polls, podcasts, GIFs, videos, or quizzes. Choose one, try it out, measure the results, and see what works best with your followers.
---
5. Always give value
Although we're all in for some occasional fun content, in a business setting, it's more reasonable to put your bets on value. Moreover, If your social media isn't filled with actionable advice, thought leadership, or fresh insights, your followers (a.k.a. potential customers) may go looking to your competitors for it.
---
6. Keep track of trends
We wouldn't want you to jump on every meme or viral video, but it's always a good idea to look at what's out there. For example, people interacting with specific trends can give you an understanding of what your audience likes and what could work for your business model. Create a diverse and flexible content plan that can adjust, and you'll succeed.
---
Choose Social Media Tools That Work for You
Although each of those tools has some unique features, you don't need a dozen to start working and bringing in results. A social media management system is a base, and all of the other apps and resources are there to make the work more productive and easier for your team.

So in conclusion, just start with an outline of your goals and budget, pick one or two tools from our list, and see how your prospecting efforts reach new heights. 
---
About the Author
Anastasiia Holovnenko is a content marketing specialist at SCIENCE. She creates articles and guides to help businesses uncover growth hacks from an outbound perspective. She is passionate about psychology, literature, and cinematography too!
The post 10 Online Tools to Build Your Social Media Presence in 2022 appeared first on Placeit Blog.

Best Deals On Amazon Prime